Product SKU
TPLC320
Brand
Comet
Size (L x W x H)
320 cm x 16 cm x 16 cm
Availability
268
Shipping Fee

Size

Quantity
[ADD ON DEALS] - TPLC320
Description
Highlight
BUY 5 ROLLS GET 5% DISCOUNT !!! FOR ALL TARPAULIN ITEMS ONLY.
** For bulk orders / large quantity orders, please contact us for better discounts.
NOTE: All the prices subject to change without prior notice.
Product
Tarpaulin Glossy Frontlit 320gsm (Grade A)
Tarpaulin is made of high-strength polyester canvas fabric, uses polyvinyl chloride (PVC) as raw material, and processes with coating and laminating production. It contains a little amount of gypsum powder. Over adding gypsum powder will cause the cloth to be torn easily and hard fabric. It consists of several properties such as waterproof, anti-mildew, anti-cold, anti-aging and anti-static.
Type: Frontlit Flex Banner
Surface: Glossy (Suitable for indoor and outdoor)
Package: Hard Core (Inner), Craft Paper or Hard Tube (Outer)
Compatible Ink: Solvent, Eco-Solvent, Mild Solvent, Latex, and UV
Suitable Printer: All kinds of large format inkjet printer such as Epson, Canon, HP, EFI VUTEK, Mimaki, Flora, ROLAND, MUTOH, SEIKO, Konica, Agfa, Fuji, Techwin, JET, Infinity Challenge Printer, etc.
Size: [ Refer Table ]
Meter
Feet
Denier

Thickness

(+/- 0.01 different)

Diameter
Weight (KG)

1.0M x 50M

3.28 ft

200D*300D

±0.30

16CM

±18

1.3M x 50M

4.26 ft

200D*300D

±0.30

16CM

±24

1.6M x 50M

5.31 ft

200D*300D

±0.30

16CM

±28

2.0M x 50M

6.56 ft

200D*300D

±0.30

16CM

±37

2.6M x 50M

8.50 ft

200D*300D

±0.30

16CM

±46

3.2M x 50M

10.50 ft

200D*300D

±0.30

16CM

±56
Laser Marking
*We assure you that:
Laser marking on every meter for tarpaulin size 2.6 meter and 3.2 meter
(Full meter on every roll guaranteed)
Also randomly available for shorter sizes
Actual weight GUARANTEED
(Weigh it to believe and we welcome comparison challenge from other brands)
Quality coating with smoothness and sharper colour
Superior material with longer outdoor life
Always the trusted and reliable brand
Tarpaulin Thickness Measurement
Features
High strength and UV resistance
White substrate for wide format digital printing and outdoor advertising
Surface self-cleaning
Waterproof
Durable and long-lasting
- Depend on PVC ratio is good (The more gypsum powder, the less durable time life)
Stable ink absorption, strong colorfastness, and faster drying effect
- Gloss surface take a longer time to dry compare to matt surface
- If the color fastness is not good, the surface will not only fade but also discoloration
when display
High-quality printing image
Perfect capable of various digital printing machine
Resistant with a various chemical solvent
Some suppliers offer printed tarpaulin with the thickness of only 0.25mm. What we offer is 310gsm tarpaulin with thickness of 0.29mm.
Tips:
Reduce ink output percentage around 15-20 percent to make it dry faster
(Gloss surface only)
Turn on the fan or add a stand fan at the side or turn on the heater around 30-35 degrees to let the ink dry faster.
Higher thickness and liner of tarpaulin will be more durable and long-lasting.
(It could also depend on weather, normal outdoor life is 9-12 months for shophouse)
Difference Thickness, Difference of Tarpaulin Quality
| | |
| --- | --- |
| GSM | MONTHS |
| 280gsm | 1 month |
| 300gsm | 1 month ~ 3 month |
| 320gsm | 3 month ~ 6 month |
| 380gsm | 6 month ~ 9 month |
| 420gsm - 440gsm | 9 month ~ 12 month |
| 510gsm | around 1 year |
Application
Compare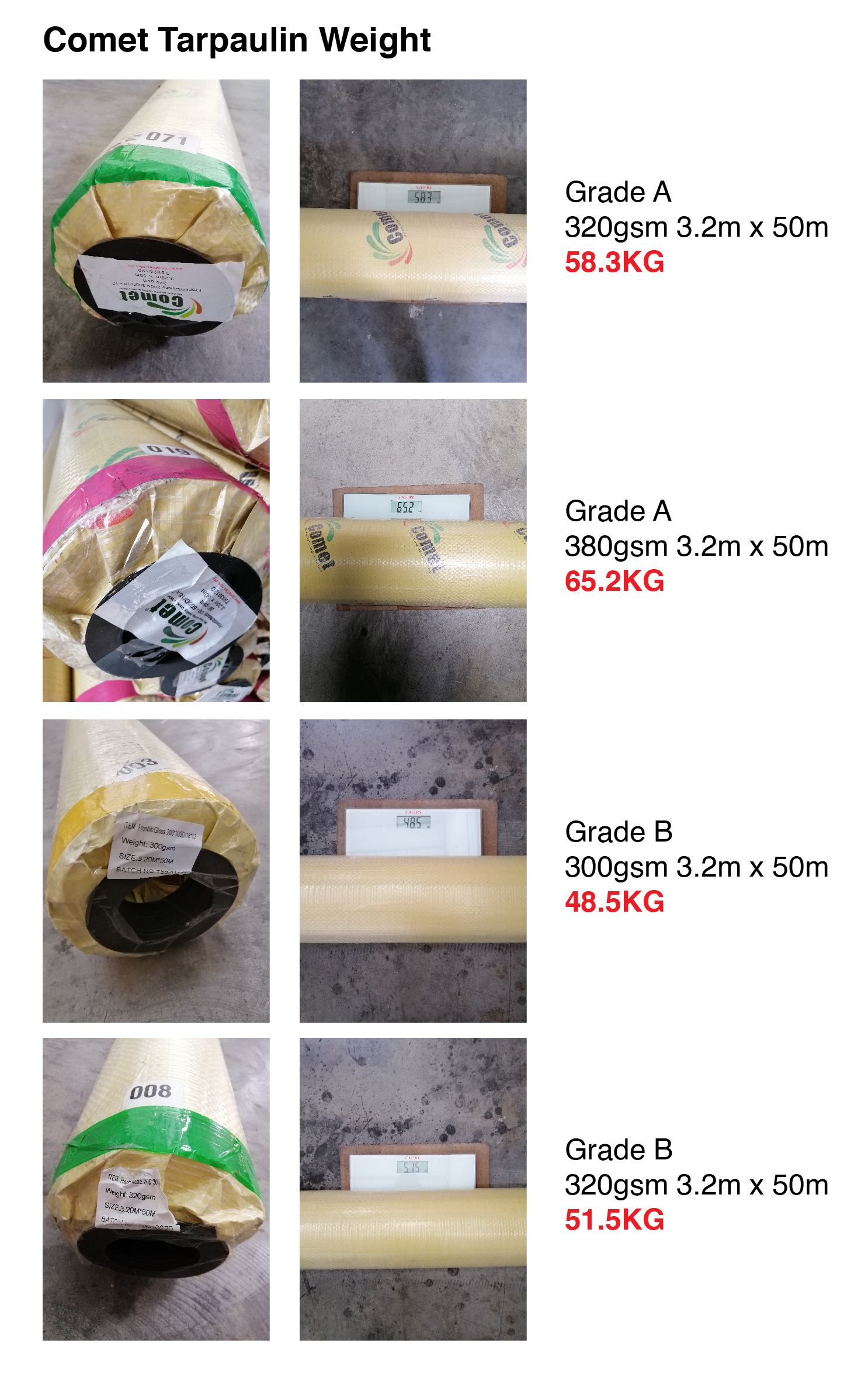 Some suppliers sell tarpaulins with lower price but without sufficient weight, or tarpaulins with sufficient weight but less gsm. For example, the product may indicate it's 340gsm / 50 meter but actual gsm/ weight given is 300gsm / 47-48 meter.
P/S : This is the reason why weight will be less
Reviews (2)
view all
back
What's in the box
Tarpaulin Glossy Frontlit 320gsm X 1